Elementary/Middle School News
Subscribe to posts
Both Lynnville-Sully gyms were full of adrenaline and activity as the Lynnville-Sully Community Education Foundation invited all K-5 boys in the community and their mothers or female chaperones to enjoy an evening of high-octane fun and games on Saturday, Apr. 7, for the annual Gym Jam event.
LSCEF Director Kyra Smith reports nearly 80 boys and their moms or grandmas took part in the evening, which was split into two age groups. Each session featured a wide variety of games with laser tag and mom versus son dodgeball being two of the favorites. Guests were invited to fuel up and hydrate throughout the night with a concession stand-like spread of Gatorade, water, nachos, and popcorn.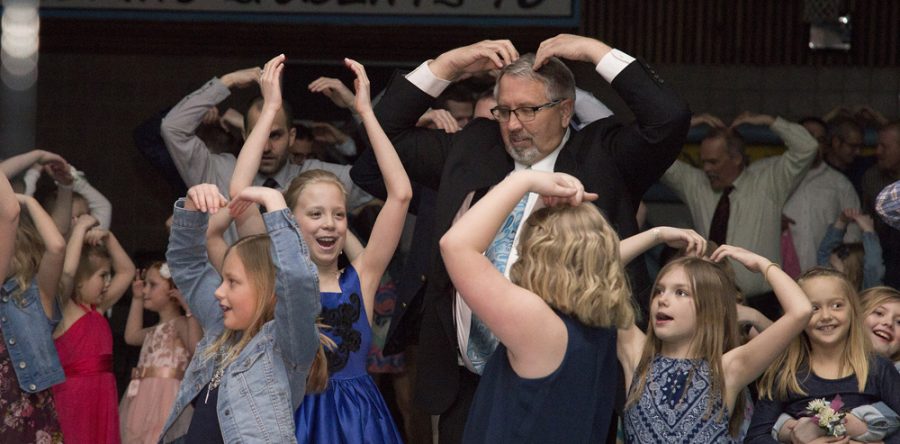 The Lynnville-Sully Community Education Foundation's (LSCEF) annual Daddy-Daughter Dance proved once again to be a fairy tale for area girls who got all dolled up for an evening "Under the Sea" with their fathers or male chaperones in the Lynnville-Sully Middle School gym on Saturday, Mar. 24.
The magical night was like a scene ripped from a story book, a dream come true for the 90 girls in kindergarten through fifth grade who attended. Many of the girls spent the day prior to the dance getting the royal treatment – dressing up in their finest with curls in their hair, nails painted, and sparkly jewels or flowers adorning their wrists. Upon entering the school, the special guests and their dates posed for a picture taken by professional photographer and LSCEF Board member, Megan Ross, owner of Four Seasons Photography. The guests of honor then walked across the boardwalk to an archway of fish leading them to the lighted dance floor in the middle school gym where they spent the evening tearing up the dance floor with their fathers and friends.
The "Under the Sea" theme was thoughtfully woven through every detail – from the invitations to the decor to the refreshment table where sea-themed snacks were served including oyster pearl cookies, mermaid tails and starfish (decorated sugar cookies by Sweet Creations), seashell mints, minnows (Swedish Fish candy), fish bait (gummy worms), and sea water (blue punch). The girls were given a snack bag of blue jellybeans and goldfish at the end of the evening for a take-home treat.
"Thanks to a generous business sponsor for donating the snacks and decorations, all money raised will be used for classroom supplies," said Kyra Smith, LSCEF Director. The entry fee of attendees will be used to further the LSCEF's mission of enhancing the educational experience of L-S students.
Aside from LSCEF Board members who devoted countless hours preparing for the big night, L-S Honor Society and Silver Cord students were also instrumental in helping the evening run smoothly. Ten students assisted with a variety of tasks throughout the day, from set up to clean up. L-S senior Aaron Vande Krol again served as DJ and kept things lively on the dance floor.
"This event is not possible without the dedication of our board members who took the time to help volunteer and make this a special night for dads and daughters in the community," said Smith.
Nala Teft and Emma Elscott rip up the dance floor.
Above - Among those dancing to "YMCA" are, from left, Brooke Hardeman, Clara Huyser, Lilly
Fuchs, Jordyn Rozendaal, Maicee O'Dell, and Elizabeth Torres, as well as other area girls in kindergarten through fifth grade and their daddies or male chaperones at the Daddy-Daughter Dance on Mar. 24 hosted by the LSCEF
L-S Youth Sports has scheduled a field clean up day for 

Saturday, April 14th

 (rain date of 

April 21st

) from 

9:00 am to 12:00 pm.

  
Please bring a rake if you have one and meet at the Sully Little League fields on the south side of town at 
9:00

 on 

Saturday, April 14th
.
We invite parents and players and anyone else who would like to volunteer for a few hours to help clean up ball fields and get ready for the 2018 L-S Little League Baseball and Softball Season.  Plans are to clean and organize the equipment shed, rake leaves out of fences and make any small repairs or preparations to the fields or batting cages that need attention.  Your help to make the 2018 season a fun experience for our young athletes is appreciated.  
Thank you!
L-S Youth Sports
The first Lynnville-Sully Community Education Foundation book drive for students in grades K-5 on Wednesday, Mar. 7, was a huge literary success and equipped the young students with plenty of reading material to keep their minds sharp and imaginations working over spring break.
The book drive was the first of its kind at L-S and was the brainchild of LSCEF board members who have been part of a similar drive in Newton. Flyers from the LSCEF were sent home with elementary students asking for donations of new or slightly-used books. In addition to the variety of donated books, Mrs. Brenda Newell, LSCEF board member and Title I reading teacher, purchased new books thanks to a grant from the Lynnville United Fund.
LSCEF board members and volunteers organized the books according to grade level, and on Wednesday morning, K-5 classrooms entered the middle school gym by class and were encouraged to pick out books that interested them from their designated tables. Every elementary student was able to choose two brand new books in addition to used books – kindergarten and first graders received one used book and the older students were encouraged to pick out three used books.
"Our first LSCEF Book Drive was very successful," said Mrs. Kyra Smith, LSCEF Director. "Students appeared extremely excited to pick out new books. We are very thankful for the numerous books that were donated and to our board members who volunteered their time to collect books, organize, set-up, and be involved in the book drive. The LSCEF Board believes getting books in the hands of these students directly impacts education, and we are happy to be a part of adding excitement for the love of reading."
L-S third-grade teacher Mrs. Beth Yoder helps students find books that best suit their interests: Clockwise from left, Cale Brink, Peyton Sharp, Yoder, Kamiya Lepley, Luke Morningstar, Trace Carlson, and Carter Tice.
L-S substitute teacher Mrs. Janet Benest and fifth-graders Jakeira Hay, Renzi Ingersoll, Leah Philby, and Hendrick Lowry browse the age-appropriate books at their class table.
The Lynnville-Sully Community Education Foundation book drive held Mar. 7 was a first for the LSCEF and a first for kindergartners, from left, Katie Staecker, Aubrey Flores, Haley Maston, and Lane Latcham. The young students enjoyed picking out new and used books that interested them. The book drive was made possible thanks to the LSCEF organization, generous donations, and a grant from the Lynnville United Fund.