Elementary/Middle School News
Subscribe to posts
See video at https://youtu.be/Y9aq7JLR22M
Developing hearts of gratitude is the goal of L-S Middle School language arts teacher Mrs. Melanie Sharp in the gratitude unit she and her students will wrap up right before Thanksgiving, the holiday traditionally known for giving thanks.
Sharp kicked off the unit on Nov. 6 with the sixth-grade class. Her motive? Encourage students to express gratitude freely and in a variety of expected and unexpected ways. Because the studies and activities were so well received, Sharp involved her seventh-grade students and plans to incorporate the full unit to both sixth- and seventh-grade classes next year.
"We all have so much to be grateful for but we often don't reflect on those things or express gratitude to others," said Sharp. "I wanted the students to see how showing gratitude not only makes someone else happy, but it also improves their own mood and quality of life."
Every day, the students read stories about gratitude from the popular "Chicken Soup for the Soul" gratitude series. The students then journaled about something they were grateful for and shared their feelings with the class.
Projects branching from the gratitude unit include the "Thankful For" tree. Each sixth and seventh grader wrote down things they were thankful for and hung the thankful leaves on the tree, a daily reminder of the many blessings in their lives. Students also wrote thank-you notes to staff members, expressing appreciation for all they have done. In class, students shared stories about staff members whom they have made a personal connection with. Students utilized class time writing and sending the letters, which were well received by the recipients. The power of a thank-you note was emphasized during class and students saw firsthand how simple strokes of thanks can make a big impact on someone's life.
In addition to thank-you notes to staff members, students also wrote notes of appreciation to the unexpected receiver. "The idea behind this is that at any moment, you have the power to improve someone else's life by simply saying thank you," said Sharp. Unexpected receivers included mail deliverers, the person keeping students safe at the crosswalk, and the Walmart employee gathering shopping carts.
Random acts of kindness (RAOK) were also part of the gratitude unit. Sharp challenged each student to perform three RAOK's, handing out an RAOK ticket to each person they showed kindness to. "Students loved this idea," noted Sharp and said many students came back for more RAOK tickets to hand out.
Gratitude projects in the works include a gratitude board and a thank-you video that will highlight people who have been an inspiration to students. Sharp hopes to have the video completed in time for Thanksgiving.
"This has been my favorite unit by far. I think it has impacted me as much as the students," shared Sharp.
See video at https://youtu.be/Y9aq7JLR22M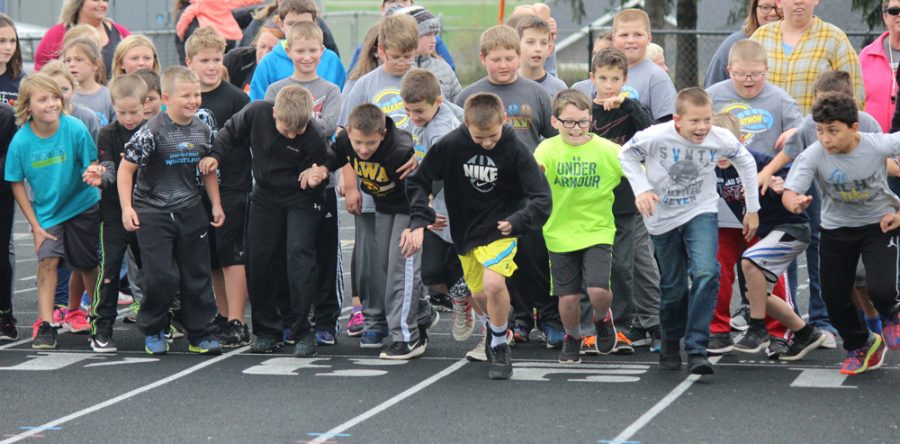 Following weeks of fundraising and anticipation, Lynnville-Sully elementary students saw their efforts and the generosity of family, friends, and community businesses pay dividends when they learned $15,750 was raised during the 2017 Walkathon held Friday, Oct. 13.
The fourth annual walkathon, hosted by the Lynnville-Sully Community Education Foundation, challenged the students to collect $12,500. That goal was surpassed, so preK-8 principal Mrs. Teri Bowlin carried out her end of the deal by getting Duct Taped against a wall during the pep assembly.
"Each person and business that supported us this year will make a lasting impression on education at L-S!" said LSCEF Director Kyra Smith.
Funds raised will go towards the purchase of a new math curriculum for grades K-5.
A lively pep assembly kicked off the fourth annual walkathon. Two classes were rewarded for their involvement – Mrs. McKenzee Downing's fifth-grade class earned a pizza or ice cream party for 100 percent participation in gathering addresses, and Mrs. Lisa Martin's second-grade class won $100 cash for 100 percent overall participation and raising the most money. After the awards presentation, K-5 teachers channeled their inner "Price Is Right" competitive spirit for a fun game that involved sprinting across the gym to reveal the final amount raised – $15,750.02 – which proved to be a challenge that earned cheers and giggles from the student crowd. Following the official unveiling of the fundraiser thermometer, Bowlin took her position against the wall, and two students from each grade who participated in fundraising were randomly drawn to apply a piece of Duct Tape. Staff members took their turn with the tape, and soon Bowlin was fully engulfed and adhered to the wall in colorful pieces of tape.
Following the pep assembly, students took turns walking, running, skipping, and even doing cartwheels around the track. Obstacle courses, music, and good times with friends made the laps even more fun and challenging. Students were rewarded with animal crackers and a drink at the end of their designated track time.
Ag day kicked off on a warm Wednesday afternoon, Oct. 4, with the L-S FFA Chapter giving fifth graders an opportunity to experience a taste of the farm in the high school parking lot.
Approximately 40 FFA members led stations that were set up with farm-related topics to educate the students. The fifth graders were split into groups of three with one FFA member who led them from station to station. Stations provided education and stressed the importance of safety and operation among horses (Taylor Maasdam, Mariah and Meleisha Vos, Mary Kate Shaver); cattle (McKinley Conover, Ty Breeden); small animals (Tessa Van Maanen, Emily Van Gorp); sheep/goats (Haley Breeden, Kiley Essen, Corbin James, Rylan James); hogs (Mason Dunsbergen); dogs (Christine Nikkel, Payton Van Wyk, Kodie Waggoner); grain (Dane Fuchs, Clay Roorda, Blaize Kuhlmann); ATVs (Brett Maasdam, Garrett Cordes, Malachi Foster); chainsaws; Power Take-Off shaft (PTO: Garret Cross, Kole Kinion, Holden Jansen); and semis (Daphne and Dalton Hackert and their father, Steve).
Fifth-grader Summer Hackert said, "I liked that we got to take the reins and steer the horses side to side, and I learned how to stop them. Also, seeing my dad there with his semi was really cool, and my classmates got to see what my dad does for his job."
A final highlight of the day was the ag olympics competition that featured agriculture-based obstacles and games that challenged the children. The winning team with the best score won a trophy.
What is the purpose of Ag Day? L-S Ag teacher and FFA advisor Mr. Brent Lowry responded, "Ag Day is a chance for FFA members to explain what they have learned about an area of agriculture in which they are interested. We present to the entire fifth grade every year as a way to try to catch every elementary student at some point in their education and give our high school members a target audience. The short presentations can be aimed at a variety of topics including safety issues, skills learned, experiences with an area of agriculture or agricultural careers."