Elementary/Middle School News
Subscribe to posts
Girls in grades first through third grade are invited to sign up for a basketball camp led by Lynnville-Sully alumni to be held on Wednesdays and Fridays during the month of June. Carrie (Norman) Lowry, L-S alum who made her mark on the L-S basketball program, will be directing the camp with help from her former teammates, Jessica (Nikkel) Maston, Anna (Conover) Arkema, and Amy (Huyser) Harthoorn. The camp is designed to introduce the game of basketball and provide fun opportunities for young girls to develop their skills in an enthusiastic and educational atmosphere.
Camp will meet on Wednesdays and Fridays during the month of June, starting June 6, from 11:30 a.m. to 12:30 p.m. in the Lynnville-Sully middle school gym. The camp is open to girls entering first through third grade. Cost to attend is $25 per player, which includes a camp T-shirt. To ensure your child receives a T-shirt, please have your registration and check to the L-S office by Friday, May 18. Please make checks payable to Lynnville-Sully Community Schools. Camp forms can be found online at
www.lshawks.org
 or attached below.
Campers will be taught the fundamentals in every aspect of the game of basketball. Shooting, passing, ball handling and defensive footwork are just a few of the many areas we will touch. Attached is the form to fill out for the camp.
Below are the details of the camp:
When:9:00-10:30 am, Tuesday andThursday; June -July
Where:L-S High School/Middle School Gyms
Dates: June 5, 7, 12, 14, 19, 21, 26, 28. July 3, 5
Cost: $35 (includes a t-shirt)
What to bring:Gym Shoes, Gym Clothes and a Water Bottle (recommended).
Questions:  E-mail coach Jerry Hulsing at jerry.hulsing@grinnell-k12.orgor call 641-990-4157. 
Lynnville-Sully Gym Rats
2018 Summer Boys Basketball Program
Boys Entering Grades 1st—8th
FOR REGISTRATION INFORMATION AND FORM, click HERE
The Lynnville-Sully boys' basketball coaches would like to invite all boys entering grades 1st
through 8th to be a part of our summer basketball program—the L-S Gym Rats. We believe
this program will provide young players the chance to have fun while improving their skills.
The L-S Gym Rats program is a 6-week program. We will meet two days a week (Wednesdays
for 3 on 3 & Fridays for fundamentals) for a total of 11 sessions. We will not meet on
Wednesday, July 4. This program will begin on Wednesday, June 6 and conclude on Friday,
July 13. This program will be held in the middle school gym which allows us to lower the
baskets for younger players. The high school gym will be utilized when needed.
3 on 3 Wednesdays (June 6, 13, 20, & 27 and July 11. We will not meet on July 4.)
The idea behind playing 3 on 3 is that it provides every player the chance to be more involved
in the game than in a typical 5 on 5 game. We believe this will help every player develop into a
more complete player. We will do our best to create teams that are balanced according to age
and ability. There will not be a lot of formal instruction on Wednesdays. The idea is to let the
boys play. We will be emphasizing sportsmanship, teamwork, and playing the game with
strong fundamentals. Should be a lot of fun!
Boys entering grades 5-8, will report at 9am and conclude at 10am.
Boys entering grades 1-4, will report at 10am and conclude at 11am.
Friday Fundamentals (June 8, 15, 22, & 29 and July 6 & 13)
Everyone likes to play basketball, but to be a good player, a person has to spend a lot of time
working on the fundamentals of the game. The purpose of Friday fundamentals is to teach
young players what it takes to develop solid ball handling and shooting skills that will help them
be successful in the future. We will encourage players to take what they learn in these
sessions and apply it to their workouts at home.
Boys entering grades 5-8, will report at 9am and conclude at 10am.
Boys entering grades 1-4, will report at 10am and conclude at 11am.
Details
• It's important that everyone is on time, so we can get organized and use our time wisely.
• The cost for this program is only $35. That price includes all 11 sessions of the 6-week
program. It also includes a T-shirt.
If you have any questions about this program, please give coach Nick Harthoorn a call at
515-238-1819 or email at nick.harthoorn@pella.k12.ia.us
Both Lynnville-Sully gyms were full of adrenaline and activity as the Lynnville-Sully Community Education Foundation invited all K-5 boys in the community and their mothers or female chaperones to enjoy an evening of high-octane fun and games on Saturday, Apr. 7, for the annual Gym Jam event.
LSCEF Director Kyra Smith reports nearly 80 boys and their moms or grandmas took part in the evening, which was split into two age groups. Each session featured a wide variety of games with laser tag and mom versus son dodgeball being two of the favorites. Guests were invited to fuel up and hydrate throughout the night with a concession stand-like spread of Gatorade, water, nachos, and popcorn.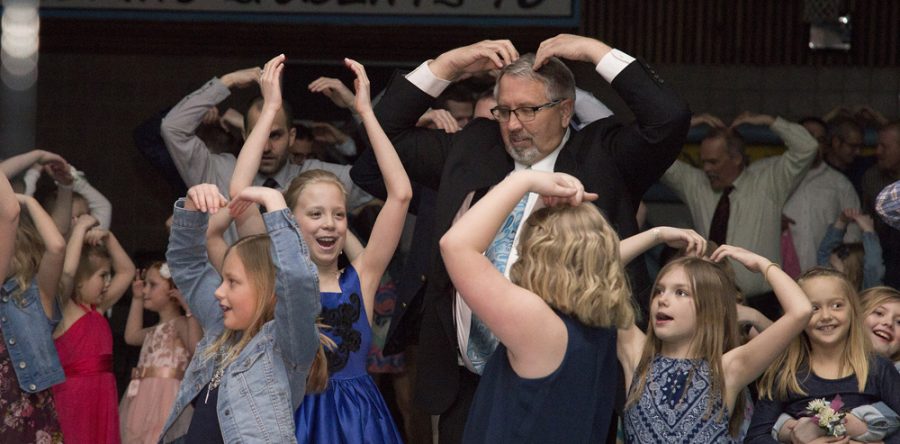 The Lynnville-Sully Community Education Foundation's (LSCEF) annual Daddy-Daughter Dance proved once again to be a fairy tale for area girls who got all dolled up for an evening "Under the Sea" with their fathers or male chaperones in the Lynnville-Sully Middle School gym on Saturday, Mar. 24.
The magical night was like a scene ripped from a story book, a dream come true for the 90 girls in kindergarten through fifth grade who attended. Many of the girls spent the day prior to the dance getting the royal treatment – dressing up in their finest with curls in their hair, nails painted, and sparkly jewels or flowers adorning their wrists. Upon entering the school, the special guests and their dates posed for a picture taken by professional photographer and LSCEF Board member, Megan Ross, owner of Four Seasons Photography. The guests of honor then walked across the boardwalk to an archway of fish leading them to the lighted dance floor in the middle school gym where they spent the evening tearing up the dance floor with their fathers and friends.
The "Under the Sea" theme was thoughtfully woven through every detail – from the invitations to the decor to the refreshment table where sea-themed snacks were served including oyster pearl cookies, mermaid tails and starfish (decorated sugar cookies by Sweet Creations), seashell mints, minnows (Swedish Fish candy), fish bait (gummy worms), and sea water (blue punch). The girls were given a snack bag of blue jellybeans and goldfish at the end of the evening for a take-home treat.
"Thanks to a generous business sponsor for donating the snacks and decorations, all money raised will be used for classroom supplies," said Kyra Smith, LSCEF Director. The entry fee of attendees will be used to further the LSCEF's mission of enhancing the educational experience of L-S students.
Aside from LSCEF Board members who devoted countless hours preparing for the big night, L-S Honor Society and Silver Cord students were also instrumental in helping the evening run smoothly. Ten students assisted with a variety of tasks throughout the day, from set up to clean up. L-S senior Aaron Vande Krol again served as DJ and kept things lively on the dance floor.
"This event is not possible without the dedication of our board members who took the time to help volunteer and make this a special night for dads and daughters in the community," said Smith.
Nala Teft and Emma Elscott rip up the dance floor.
Above - Among those dancing to "YMCA" are, from left, Brooke Hardeman, Clara Huyser, Lilly
Fuchs, Jordyn Rozendaal, Maicee O'Dell, and Elizabeth Torres, as well as other area girls in kindergarten through fifth grade and their daddies or male chaperones at the Daddy-Daughter Dance on Mar. 24 hosted by the LSCEF