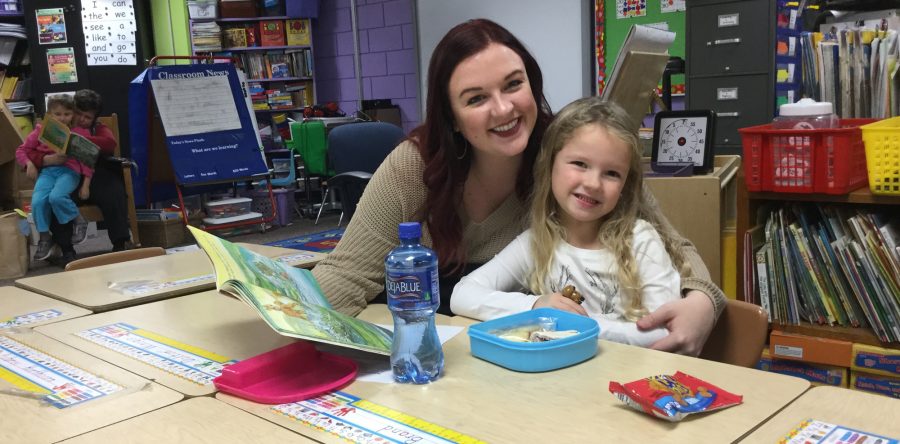 Lynnville-Sully held its first Family Early Literacy Night on Monday, Dec. 12, and welcomed 24 families for a night of fun and hands-on literacy learning.
At the event, Mrs. Teri Bowlin, preK-8 principal, explained how the parents and children completed 12 activities focusing on phonics, phonemic awareness, sight words, read aloud, writing, and fine motor skills. Each family went home with a bag filled with various resources to use to replicate the school's activities along with materials for suggested activities to promote early literacy skills. During the evening, families enjoyed a short snack break, and children also were able to choose a book to take home.
Denise and Katie Staecker, on the left, and Jay and Rebecca Rozendaal participate in a painting activity geared toward helping the children develop control of hand muscles, making writing easier.
"I heard several people who were surprised at how quickly the hour and a half flew by," said Bowlin. "I also had multiple parents share how much they liked the format of the evening, and how the activities were designed for them to work with their children to develop such important reading and writing skills."
The successful night was due in part to the team effort of Lynnville-Sully staff and community donors. "It was definitely a team effort to pull everything together," said Bowlin.
Twenty-four staff members contributed to the evening, and Bowlin wishes to thank four area businesses who supported the school's efforts to promote early literacy – Key Cooperative, Conover Seed, Newton Hy-Vee, and Iowa's Best Burger Cafe.
Lynnville-Sully associate Grace Vander Weerdt helps children work on fine motor skills by making bracelets with beads and pipe cleaners.