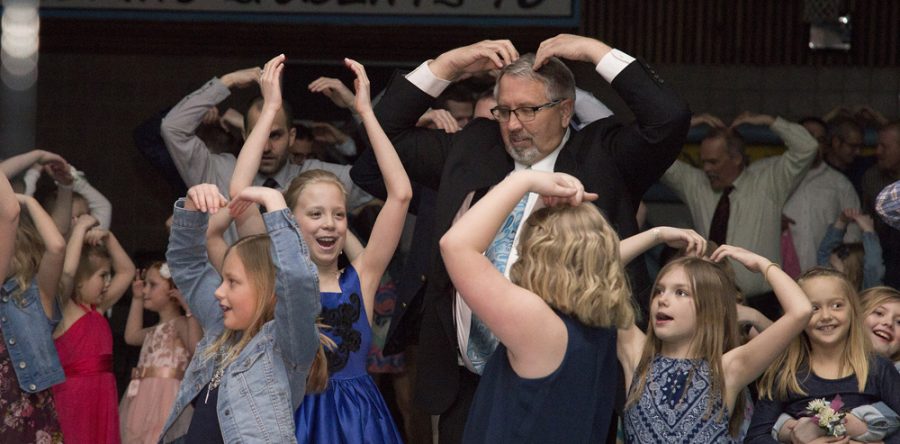 The Lynnville-Sully Community Education Foundation's (LSCEF) annual Daddy-Daughter Dance proved once again to be a fairy tale for area girls who got all dolled up for an evening "Under the Sea" with their fathers or male chaperones in the Lynnville-Sully Middle School gym on Saturday, Mar. 24.
The magical night was like a scene ripped from a story book, a dream come true for the 90 girls in kindergarten through fifth grade who attended. Many of the girls spent the day prior to the dance getting the royal treatment – dressing up in their finest with curls in their hair, nails painted, and sparkly jewels or flowers adorning their wrists. Upon entering the school, the special guests and their dates posed for a picture taken by professional photographer and LSCEF Board member, Megan Ross, owner of Four Seasons Photography. The guests of honor then walked across the boardwalk to an archway of fish leading them to the lighted dance floor in the middle school gym where they spent the evening tearing up the dance floor with their fathers and friends.
The "Under the Sea" theme was thoughtfully woven through every detail – from the invitations to the decor to the refreshment table where sea-themed snacks were served including oyster pearl cookies, mermaid tails and starfish (decorated sugar cookies by Sweet Creations), seashell mints, minnows (Swedish Fish candy), fish bait (gummy worms), and sea water (blue punch). The girls were given a snack bag of blue jellybeans and goldfish at the end of the evening for a take-home treat.
"Thanks to a generous business sponsor for donating the snacks and decorations, all money raised will be used for classroom supplies," said Kyra Smith, LSCEF Director. The entry fee of attendees will be used to further the LSCEF's mission of enhancing the educational experience of L-S students.
Aside from LSCEF Board members who devoted countless hours preparing for the big night, L-S Honor Society and Silver Cord students were also instrumental in helping the evening run smoothly. Ten students assisted with a variety of tasks throughout the day, from set up to clean up. L-S senior Aaron Vande Krol again served as DJ and kept things lively on the dance floor.
"This event is not possible without the dedication of our board members who took the time to help volunteer and make this a special night for dads and daughters in the community," said Smith.
Nala Teft and Emma Elscott rip up the dance floor.
Above - Among those dancing to "YMCA" are, from left, Brooke Hardeman, Clara Huyser, Lilly
Fuchs, Jordyn Rozendaal, Maicee O'Dell, and Elizabeth Torres, as well as other area girls in kindergarten through fifth grade and their daddies or male chaperones at the Daddy-Daughter Dance on Mar. 24 hosted by the LSCEF