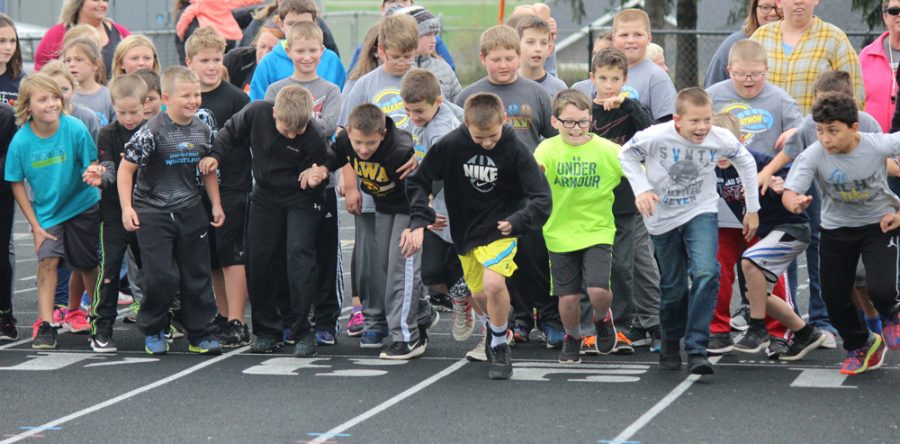 Following weeks of fundraising and anticipation, Lynnville-Sully elementary students saw their efforts and the generosity of family, friends, and community businesses pay dividends when they learned $15,750 was raised during the 2017 Walkathon held Friday, Oct. 13.
The fourth annual walkathon, hosted by the Lynnville-Sully Community Education Foundation, challenged the students to collect $12,500. That goal was surpassed, so preK-8 principal Mrs. Teri Bowlin carried out her end of the deal by getting Duct Taped against a wall during the pep assembly.
"Each person and business that supported us this year will make a lasting impression on education at L-S!" said LSCEF Director Kyra Smith.
Funds raised will go towards the purchase of a new math curriculum for grades K-5.
A lively pep assembly kicked off the fourth annual walkathon. Two classes were rewarded for their involvement – Mrs. McKenzee Downing's fifth-grade class earned a pizza or ice cream party for 100 percent participation in gathering addresses, and Mrs. Lisa Martin's second-grade class won $100 cash for 100 percent overall participation and raising the most money. After the awards presentation, K-5 teachers channeled their inner "Price Is Right" competitive spirit for a fun game that involved sprinting across the gym to reveal the final amount raised – $15,750.02 – which proved to be a challenge that earned cheers and giggles from the student crowd. Following the official unveiling of the fundraiser thermometer, Bowlin took her position against the wall, and two students from each grade who participated in fundraising were randomly drawn to apply a piece of Duct Tape. Staff members took their turn with the tape, and soon Bowlin was fully engulfed and adhered to the wall in colorful pieces of tape.
Following the pep assembly, students took turns walking, running, skipping, and even doing cartwheels around the track. Obstacle courses, music, and good times with friends made the laps even more fun and challenging. Students were rewarded with animal crackers and a drink at the end of their designated track time.