High School News
High School announcements would go here.
Subscribe to posts
Hawk Fans – Get your Football Fan Gear Today!
To access the Hawk Shop Online Store and order your Football Fan Gear, please visit the school website for the store link or follow the link to 
www.tig2estore.com/lshawks
.  The ordering period for football shirts will close on 
Monday August 21 at 8:00 AM
.  (NO LATE ORDERS ACCEPTED).  Orders will be delivered to the school on 
September 1
 and will be sent home with students on that day where possible. If you do not have a student in school who can pick up your order, please plan to pick it up after school at the elementary office or contact Cathy Fraker via email at 
fraker@lshawks.com
 to make arrangements.
Thank you,
Scott Alberts
Athletic Booster – President
Lynnville-Sully High School math teacher Dwight Beyer received the 2017 Educator of Character Award from The Robert D. and Billie Ray Center at Drake University. It was presented at the Ray Center's annual Iowa Character Awards ceremony on Friday, July 21, at the Meadows Events and Conference Center in Altoona.
Beyer, the beloved high school teacher who recently retired after 38 years with the school district, was among 12 Iowa individuals and organizations honored for exceptional character. Earlier this spring, Beyer was nominated by his colleagues, Lisa Foster, learning and systems leader, and Kevin Johnson, middle school language arts teacher. Foster and Johnson gathered letters of recommendation from current and former students and colleagues of Beyer's. All letters praised Beyer for the impact he had in and outside the classroom, and for the outstanding character and leadership he provided as a teacher, colleague, and friend.
In 38 years of teaching, Beyer has improved the lives of hundreds of Lynnville-Sully students. His reach extends far beyond the walls of the classroom, having served as a sponsor for prom and the student council, an organizer of math and science field trips, a coach, and a bus driver. Perhaps most visibly, he served as a broadcaster for all Lynnville-Sully athletic events. He served the community as a member of the Lynnville City Council and the Lynnville Library Board, and supported the activities of the Lynnville Women's Club, of which his wife is a member.
Beyer has made an impact on every student who has walked through his classroom door. Many alumni who were blessed to learn from one of the best have fond memories and are influenced by the veteran teacher yet today, modeling his characteristics of fairness, caring, and respect in the workplace. In one of the letters of nomination for the Iowa Character Award, a Lynnville-Sully alum in part wrote, "TRUSTWORTHINESS and RESPONSIBILITY just come naturally for Mr. Beyer. You can trust him to make every effort to see his students succeed and be responsible. You can trust him to be a listening ear in confidence. You can trust him to meet the responsibilities he sets for himself and his students."
The Ray Center annually recognizes Iowans who show the Six Pillars of CHARACTER COUNTS!: Trustworthiness, re-spect, responsibility, fairness, caring, and citizenship. Since 2005, the organization has recognized more than 100 Iowans for showing good character.
The 2017 Iowa Character Awards are presented by Hy-Vee, Inc., and KDSM FOX 17.
The Robert D. and Billie Ray Center, Iowa's home for the CHARACTER COUNTS! and Excellence with Integrity programs, provides character and leadership development strategies to improve civility and develop ethical leaders throughout the world. The Ray Center honors two of Drake's most respected alumni – Robert D. and Billie Ray – whose humanitarian efforts, character, and leadership set an inspirational example for multiple generations.

A number of Hawks recently learned they have garnered all-conference honors in the South Iowa Cedar League.
For the L-S baseball team, which placed first in the SICL this summer, those named to the first team all-conference are senior Tyler Van Zante (pitcher), junior Carson Dunsbergen (catcher), junior Elijah Collins (infield), and senior Caden Dunsbergen (outfield). Van Zante had a 5-4 record on the mound and struck out 64 batters. Carson D. had a fielding percentage of .975. Collins' fielding percentage was .818, and he had the second-most hits for L-S this year with 31, including a team-high nine doubles. He also led the team in stolen bases with 21. Caden D.'s fielding percentage was .893, and he had the most hits of any Hawk with 32, including one home run.
L-S Head Coach Bob Scandridge was named the SICL Coach of the Year. Honorable mention went to juniors Josh Dunsbergen and Corbin James.
For softball, five girls earned all-conference honors from their performances during the 2017 season. Senior Brenna Lanser was named to the first team for infield with a .928 fielding percentage. She had four of the Hawks' eight home runs this year and led the team in RBIs with 27. Sophomore Carson Fisk (infield) and senior Haley James (outfield) earned second-team all-conference honors. Fisk had a fielding percentage of .908 and a 4-2 record on the mound. She had 100 percent success stealing 19 bases. H. James had a .961 fielding percentage.
Honorable mention went to freshman Mallory Loftus and junior McKinley Conover.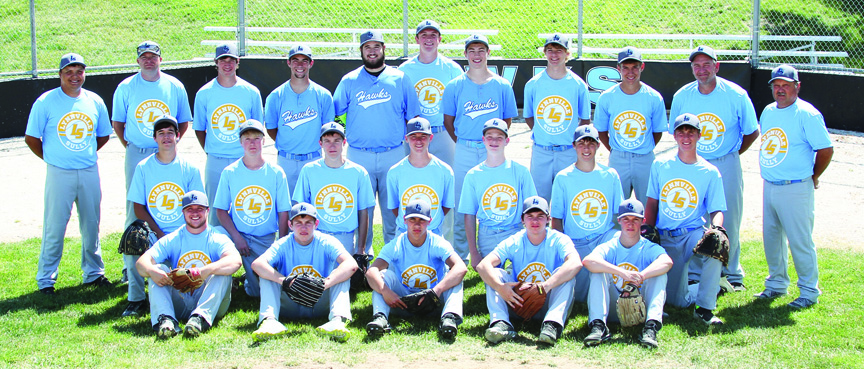 After placing second last year in conference play, the Hawks were left hungry for a conference championship. This year, they helped themselves, winning their first conference championship since 2001. They lost three seniors from 2016, but the team stepped up to fill their shoes and put together an overall record of 16-8.
The L-S boys started their season with a 1-0 loss against 2016 conference champions and 2017 conference runner-up, Colfax-Mingo. But the Hawks bounced back right away, dominating Montezuma, North Mahaska, and BGM. Losses for the Hawks were dabbled throughout the season, slipping in between two four-game win streaks and one seven-game win streak.
One big game for the Hawks was the Keota game in June in which the Hawks were down two runs with two outs and nobody on base in the last inning. They came back to win it 16-13.
"We talk about competing and giving yourself a chance, we found a way to get on base and eventually win the game," recalled L-S Head Coach Bob Scandridge.
Another highlight was beating Colfax-Mingo during their second meeting, 2-0. Last and definitely not least was beating HLV in the Hawks' final regular-season game to clinch the conference championship.
L-S came out of the first round of districts with the win over Melcher-Dallas, with junior Elijah Collins throwing a one-hitter and 13 strikeouts. They advanced to face Moravia, whom they fell to, 10-6, after a tough go at it. "We didn't take advantage of the opportunities that we needed to during this particular game," noted L-S Coach Scandridge
Three seniors were important parts of the team this year. DH and pitcher Isaac Collins had an on-base percentage of .444 and pitched a 3-0 record. Centerfielder Caden Dunsbergen had the Hawks' only home run of the year and stole 16 bases. Infielder and pitcher Tyler Van Zante led the Hawks on the mound, throwing 64 strikeouts, and at bat, he didn't strike out once all year.
"These three seniors who showed passion and leadership are going to be missed. Each one of them brought a love of the game to practice and games," L-S Coach Scandridge said. "We also return a strong nucleus of starters and letter winners who look to advance the program further."
Coming off last summer's fourth-place conference finish, the Lynnville-Sully softball team was able to move up a ranking this year, tying for third place with Colfax-Mingo. Despite losing three seniors, including Kasiah Ehresman who set a base stealing record, the Hawks still led the SICL Conference with stolen bases this year. The Hawks not only took on conference teams, but continued to challenge themselves with non-conference schools, often from larger classes. Overall, the L-S girls finished with a winning record of 18-12.
"We carried an extremely competitive schedule and competed with nearly every team at every level, which is great to see and so much fun to coach," said L-S Head Coach Stacey Alberts.
L-S had a bumpy start, losing to last year's conference champions, Colfax-Mingo, followed by a close one-run loss to conference rival Montezuma and a loss to Class 3A Pella. The girls quickly turned things around, though, going on a nine-game win streak, which included wins over 2017 conference co-champions, Sigourney and Belle Plaine.
In the second half of the season, the Hawks had some success against both conference and non-conference teams, but also some tough losses. They fell to Colfax-Mingo in a close game, but were able to avenge their early loss against Montezuma. The L-S girls wrapped up their regular season with a loss to HLV, earning a conference record of 11-5. This would tie them for third with Colfax-Mingo, behind Sigourney and Belle Plaine (both tied for first).
L-S began post-season play in early July, taking on Colo-Nesco and coming out victorious, 6-2. They moved on to face Montezuma for the third time. Despite their strong start, scoring two in the first inning, the Hawks fell to the Bravettes, bringing the season to a halt.
This year's L-S team boasted two seniors: Third-baseman Brenna Lanser, who led the Hawks with 10 doubles, four home runs, and 27 RBIs, and centerfielder Haley James, who scored 18 times for the Hawks this season and was always reliable for a diving catch, ending the season with a fielding percentage of .961. Alberts will miss these seniors but is looking for future opportunities.
"Our squad is trending in a positive direction," the coach noted. "We will simply stay with our off-season plans, trust in our development process, and try to get the girls enough repetitions coming into season by next year to be strong and confident."
The 2017 season for the Lynnville-Sully baseball team ended last week after they advanced to the second round of districts, but were stopped before they could reach the district final.
Melcher-Dallas
In their first district game, L-S took the win over the Melcher-Dallas Saints on Tuesday, July 11, after a low-scoring affair.
Freshman Bray Noun Harder makes a tough catch with senior Carson Dunsbergen looking on in the Hawks' first regional game on Tuesday, July 11, versus Melcher-Dallas.
Junior Elijah Collins fires off a pitch on the mound for the Hawks in the Melcher-Dallas game. He allowed just one hit and struck out 13.
Junior Josh Dunsbergen lays down a bunt in the game against Melcher-Dallas, where he went two-for-three at bat.
L-S shut Melcher-Dallas down, allowing only one hit with no runners advancing past first base. The Hawks were able to bring three home, one in the second and two in the fifth. L-S Coach Bob Scandridge noted, "I loved our energy tonight, you can tell it is post-season baseball."
L-S accounted for six hits throughout the night. Junior Josh Dunsbergen went two-for-three, scoring a run for the Hawks. Junior Corbin James came up big, helping the Hawks out with two RBIs. Junior Cody Gibbs had the only double for the night and earned an RBI. Junior Elijah Collins had two stolen bases, and senior Tyler Van Zante had one as well.
E. Collins had an impressive night, pitching all seven innings and only giving up one hit and walking one.
"Elijah came up big for tonight with his one-hit, 13-strikeout performance," Scandridge said. "He challenged the hitters all night by getting up early in the count. The defense behind him was flawless with no errors."
E.Collins struck two batters out each inning, except the sixth, totaling 13 strikeouts.
MORAVIA
The win over Melcher-Dallas sent the Hawks on to the regional semifinal, in which they faced Moravia for the third time this year. In previous meetings with the Mohawks, the Hawks lost both times, one of those being in extra innings. On Thursday, July 13, the Hawks suffered a 10-6 loss, ending their season in the second round of districts.
Moravia hopped out on top early, with two runs in the first. L-S quickly came back with one of their own in the second, but Moravia scored another two in the third. The Hawks rebounded from their deficit to tie the game 4-4 in the fourth, but could not hang on, giving up six more runs in the last three innings.
L-S ended the night with nine hits. James was three-for-four, hammering out a double and a triple. Senior Caden Dunsbergen had two hits on the night, giving the Hawks an RBI and a run.
Defensively, the Hawks struggled, giving up seven hits and 10 runs. Senior Tyler Van Zante started the night pitching, going for three innings until J. Dunsbergen came in for 1-2/3 innings. Freshman Blaize Kuhlmann finished out the remaining 1-1/3 innings. Combined, they walked 10 and struck out three. The Hawks had seven errors but were able to force four on the Mohawks.
"Though we didn't bring our A game tonight, I was proud of the way the players kept battling and competing till the last out. It's been a great season with lots of goals accomplished," concluded Scan-dridge.
Moravia went on to fall to Colfax-Mingo, 3-2, in extra innings in the regional final.
L-S ends the season with an overall record of 16-8 and a conference record of 14-2.
They say the apple doesn't fall far from the tree. Throughout Bob Scandridge's 31 years of coaching and teaching, he has been able to validate this. Scandridge recently celebrated senior night as a coach for the Lynnville-Sully baseball team. He not only coached all three graduating seniors, but their fathers as well.
Scandridge started at Lynnville-Sully in 1988. He teaches industrial arts and has coached football (1988-2006), assistant coached football (2010-2013), baseball (1989-1992, 1995-1996, 2014-present), and assistant coached wrestling (1988-2012). He has also been the athletic director for 13 years. The longer he's at L-S, the more double generation kids he starts to teach. He has coached 11 second-generation families, and there are more and more coming up.
The Hawks were conference champions this year, which they haven't been since 2001. The baseball team had three seniors this year: Isaac Collins, son of Tim and Samantha Collins; Caden Dunsbergen, son of Tim and Nicole Dunsbergen; and Tyler Van Zante, son of Jason and Michelle Van Zante. Scandridge coached all three dads in either baseball and/or football.
Coach Bob Scandridge (back row, far left) is pictured in 1992 with some of the parents of his current players: Jason Van Zante (back row, second from left, #15), Dustin Dunsbergen (back row, in center, #45), and Tim Collins (front row, second from the right).
Tim C. played football and baseball from 1990-1994, but only three of those years under Coach Scandridge. He played left field and caught for the Hawks.
"Coach found a way to get the most out of us players by enjoying the game and demanding respect for the game," noted Tim C. "I feel Coach still demands the respect of his players today and has built the program to have a positive attitude when his players take the field."
Tim C.'s son, Isaac, plays first, third, and designated hitter for the Hawks and is a two-year letterwinner. Tim C. has two other sons currently in the baseball program: Junior Elijah Collins, who plays third and pitches, and sophomore Abram Collins, found in the outfield.
Scandridge noted some of the similarities – and differences – between the Collins generations.
"I could always count on Tim to get the job done, and I see a passion for baseball in his sons just like he had," Scandridge said. "Tim was a player of few words, unlike his boys now."
Tim C. is pleased his sons get to play under the same coach as he did all those years ago.
"For me, it has been a real privilege to have Coach Scandridge coach my sons and instill a positive attitude and teach them some life lessons along their journey through high school and baseball," Tim C. said.
Tim Dunsbergen did not play baseball for Scandridge, but had him as a coach for football and wrestling for three years. Tim D.'s older son, Blake, was the first double generation player that Scandridge had. Another one of his sons, Caden Dunsbergen, is a senior on this year's squad, playing centerfield for the Hawks. Caden Dunsbergen has been a letterwinner for three years.
Seniors on Lynnville-Sully's baseball team have a special bond with L-S Head Coach Bob Scandridge as he has coached both the boys and their fathers in his 31-year coaching career: Front, Caden Dunsbergen, Elijah Collins, Tyler Van Zante; back, Tim Dunsbergen, Tim Collins, Coach Bob Scandridge, and Jason Van Zante. Photo by Taylor Photography.
"I see the willingness to be coached and to do anything for the team," commented Scandridge on Tim D. and his boys. Tim D. has another son, junior Carson Dunsbergen, who catches. He talked about what it's like to have Scandridge for a coach.
"He is very intense and competitive, and I can tell that he knows what he is talking about," Carson said. "It is special to have a coach that has coached my dad and my older brothers."
Jason Van Zante played football and baseball from 1988-1991. He played outfield his sophomore and junior years and caught his senior year.
"My greatest memory is getting second in state junior year," said Jason.
Tyler shared his greatest memories as well, saying, "Winning conference this year as a senior and seeing the program grow over the past four years."
Jason was part of the 1988 and 1989 conference champion teams. "Coach always had a good sense of humor and related to the kids well," Jason recalled. "He was a little bit fierier back then and might be a little more laid-back now."
Tyler is a four-year letterwinner found in the infield and on the mound.
"Both Jason and Tyler have a wide knowledge and passion for the game of baseball," commented Scandridge.
There are four more second-generation players on the current Hawk baseball team: freshman Slater Young, son of Nathan and Stephanie Young; freshman Kinnick McFarland, son of Ryan and Dana McFarland; sophomore Evan Squires, son of Chad and Michelle Squires; and junior Josh Dunsbergen, son of Dustin and Dana Dunsbergen.
Fun Q-and-A with Coach Scandridge
Q: Have you ever accidentally called a son by their father's name?
A: "That might be a question you have to ask the sons. I find myself calling them by their siblings' names, and I am sure I slip in their parents every now and then if I get excited."
Q: Does it make you feel old to have coached two generations?
A: "I prefer not to use the word old, but seasoned with wisdom. I find coaching second-generation players very rewarding and enjoyable. I notice a lot of common themes between father and son. I feel truly blessed to have these opportunities."
Q: Do you plan to coach until the next generation?
A: "Are you asking for three generations? I think I need to get through a lot more second-generation kids first. We will see how long I will be able to keep swinging a bat.
The Lynnville-Sully softball team was forced to end their season short of state this week, making it to the third round of regionals but falling to conference rival Montezuma who have advanced to state.
COLO-NESCO
After a first-round bye, the Hawks took on Colo-Nesco on Wednesday, July 5. The L-S girls grabbed the lead early and stayed on top the whole game to take the win.
L-S allowed two runs all game, both of them coming in the first inning. The Hawks quickly recovered, earning three in the second, two in the third, and one in the fourth.
Throughout the game, the Hawks continued to make impressive plays. Centerfielder Haley James, a senior, scooped up a close catch in the top of the fourth, followed by a stellar catch by freshman right fielder Janelle Rozendaal. Freshman Mallory Loftus got the second out of the seventh inning, making a diving catch off of the mound.
The Hawks had nine hits on the night. Senior Brenna Lanser swung the bat well, going two-for-two and hammering out two doubles. Sophomore Carson Fisk went two-for-four, bringing home two RBIs and stealing one base. Freshman Abby Gruver stole two of the Hawks' four stolen bases for the night.
Mallory Loftus pitched all seven innings, throwing two strikeouts. Loftus only gave up two runs on five hits.
MONTEZUMA
Advancing on, the Hawks took on the Braves on Friday, July 7, for the third time this season. During the first run in with Montezuma for the second game of the season, the Hawks lost a close game 1-0. They avenged that loss later in the season, beating the Braves 5-2. In the third meeting of the two teams, when the stakes were highest, L-S was unable to come away with the win, losing 10-4 after battling for seven innings.
It was a tight, low-scoring affair for the first half of the game. Montezuma earned a run in the first, and L-S earned two. The Bravettes got another in the second, tying the game at 2-2 until the fifth inning. The Bravettes tucked another run under their belts in the fifth and scored seven more in the sixth. The Hawks were down 10-2 going into the bottom of the sixth. L-S continued to fight, scoring one in the sixth and one in the seventh. This wouldn't be enough to recover from their deficit, and the game ended with the Hawks trailing 10-4.
L-S had eight hits throughout the night. Junior McKinley Conover went three-for-three, pounding out a double, and helped the Hawks out with an RBI. Sophomore Shiloh Cunningham had a homer in the first. Senior Haley James was two-for-three and crossed the plate once.
Loftus pitched the majority of the game, striking one out. Conover finished the final inning for the Hawks, helping them out with a strikeout.
Eighth-grader Caitlin Alberts makes contact with the ball in the July 5 game against Colo-Nesco.
After the season-ending loss, L-S Coach Stacey Alberts had nothing but positive comments to share about the L-S softball team.
"This was a wonderful group of girls to coach," she said. "They were willing to work and willing to listen, and the results of their work was easy to see. This group can contend with the best in the state, and I think they started to see that through the season. We intend to keep moving their momentum forward through the off-season, and we will look forward to getting back on the field."
The loss brought the Hawks' final record to 18-12. They tied for first in the west side of the SICL Conference and were tied for third in the conference overall. The L-S JV team also ended with an above .500 record of 12-4-2.
The Hawks say good-bye to two seniors: Lanser and James. Lanser finished out the year with a .404 on-base percentage. She had 10 doubles, four home runs, and 15 stolen bases. James ended the year with 21 hits. She was credited with 43 putouts and stole seven bases.
"I just want to express how much I appreciate Brenna Lanser and Haley James' leadership throughout the year," Alberts said. "They were patient, kind, and strong in their leadership, which helped this group be competitive. They were excellent examples for others to follow."
After ending their conference season at 14-2, the Lynnville-Sully baseball boys played in two more non-conference games to ready themselves for postseason play.
E-B-F
The Hawks had a difficult go with the Eddyville-Blakesburg-Fremont Rockets on Monday, July 3. They came away with a 6-0 loss.
It was a low-scoring affair for the majority of the game with the Hawks going into the seventh inning down 1-0. L-S started to lose defensive control, allowing for five runs in the seventh.
The Hawks were unable to bring any runs home, though they were able to load the bases in the sixth. Offensively, they struggled to find hits, ending the night with four. Three of those hits came from senior Tyler Van Zante; the other hit came from senior Caden Dunsbergen.
Van Zante was given the loss after pitching 5-1/3 innings, despite his 11 strikeouts. Junior Josh Dunsbergen finished the final 1-2/3 innings, allowing one hit and striking out one.
The JV Hawks also played E-B-F and ended with a 2-2 tie due to fireworks that night in Sully. The Hawks had what could have been the winning run on third base, but an E-B-F outfielder made a good throw to gun him down at the plate.   Freshman Ethan Wyma scored the two runs for the Hawks. Senior Isaac Collins and freshman Bray Noun Harder both threw for the Hawks.
Senior Tyler Van Zante tags out an E-B-F base runner on Monday, July 3.
Junior Josh Dunsbergen finds himself in a precarious position after leaping for the ball. The E-B-F runner was called safe.
PCM
The L-S Hawks hopped on the road to face PCM on Wednesday, July 5. They were unable to hold up against the Mustangs, losing the game 9-5.
PCM jumped on them early, scoring five runs in the third inning, two in the fourth, and two in the fifth. At the top of the fifth, the Hawks started to collect some runs. They brought home two in the fifth, one in the sixth, and two in the seventh, not enough to defeat the Mustangs.
It was another tough offensive game for L-S, finishing the night with five hits. Van Zante and sopho-more Rylan James both went one-for-three, Van Zante with an RBI. J. Dunsbergen and junior Cody Gibbs went one-for-two, with Gibbs raking in two RBIs. The Hawks were walked six times and did not steal any bases.
Junior Elijah Collins took the loss, pitching five innings. Collins only walked one and threw five strikeouts. J. Dunsbergen finished up the final inning, allowing one hit and striking one out.
The JV boys had a successful night on the ball diamond at PCM, winning 11-2. The Hawks scored four in the first and never looked back. Noun Harder, Wyma, freshmen Blaize Kuhlmann and Slater Young, and sophomores Abram Collins and Cale Foster added six more runs in the third. Freshman Logan Ingersoll added one more run in the fifth. Kuhlmann pitched a nice game in the win, which brought the JV team's final record to 14-2-1.
"It was a good season for the JV squad overall," said L-S Coach Kevin Johnson. "The kids really improved as the season progressed as the regular season comes to an end."
The 15-7 L-S varsity team was set to start its postseason play on Tuesday, July 11, traveling to Colfax to play Melcher-Dallas.
If the Hawks take the win on Tuesday, they play at Twin Cedars on Thursday, July 13, at 5 p.m. They will face the winner of the July 11 Moravia and Moulton-Udell game.
The district final to determine who plays in the substate game will be at Twin Cedars this Saturday at 7 p.m.