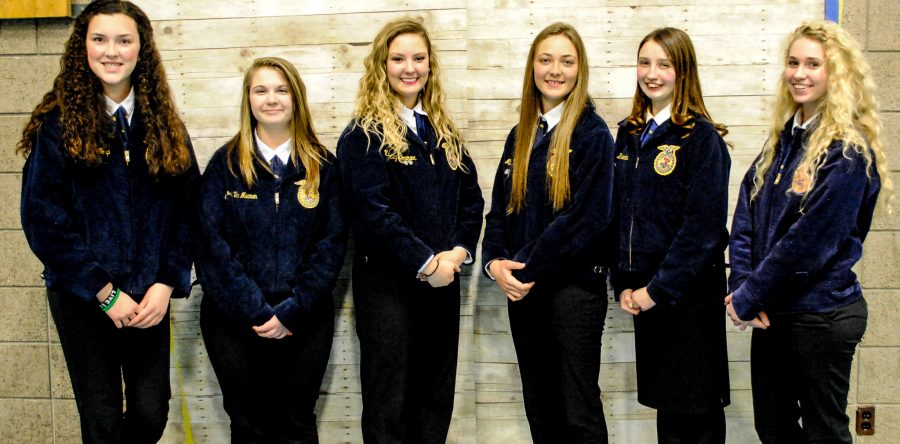 L-S FFA members gathered with family and friends for the 65th Annual FFA Banquet on Tuesday, Mar. 21, for an opportunity to celebrate the awards and accomplishments of the L-S FFA Chapter from the school year.
The banquet kicked off with a meal in the middle school gym, featuring a menu of pork loin donated by Synergy, and the remainder of the meal prepared by the Mrs. Gelene Evans, family and consumer science teacher, and the Foods II class. After the meal, FFA officers opened the meeting before beginning the awards ceremony to recognize students for their hard work in FFA.
The awards ceremony portion of the evening recognized the many achievements, honors, and awards FFA members accumulated over the school year. FFA members who participated in Career Development Events (CDE), the soils competition, and sub-district competition were recognized. As in years past, the L-S FFA Chapter awarded a community member with the Honorary Chapter FFA Degree at the banquet. This year's Honorary Chapter Degree went to David Samson, L-S grad and former L-S FFA member and officer who continues to play a role in the local agriculture industry and is a strong supporter of L-S FFA.
Below is a recap of the awards given at the banquet:
Iowa FFA Degree: Dylan Roozeboom, Haley Breeden
Fruit Sales Awards: 1. Libbie Vos, 2. McKinley Conover, 3. Brett and Kaylee Maasdam
Academic Achievement Awards: Mallory Loftus, Mariah Vos, Kaylee Maasdam
Star Greenhand: Blaize Kuhlmann
Star Chapter Placement: Dylan Roozeboom
DeKalb Leadership: Libbie Vos
After handing out awards, Mr. Brian Lowry, L-S FFA Advisor and agriculture teacher, gave a speech about each individual FFA senior. Lowry quite often uses this time to make jokes about the seniors but also compliments each student.
After Lowry's speech, the current officers installed the new officers into their positions. Taking over the reins in the 2017-18 year will be Mariah Vos, president; Haley Breeden, vice president; Emily Van Gorp, secretary; Tessa Van Maanen, treasurer; McKinley Conover, reporter, and Kaylee Maasdam, sentinel.
"The 2017 FFA Banquet was a success in my opinion, I always look forward to this time of year. It's spring time, planting time. and, of course, banquet time. The banquet is an event that I take pride in being the advisor of the L-S FFA. I enjoy seeing FFA members get recognized for the different activities in which they have chosen to participate," said Lowry