An excited L-S girls track team headed to Belle Plaine on Tuesday, Mar. 28, ready to get the outdoor track season rolling.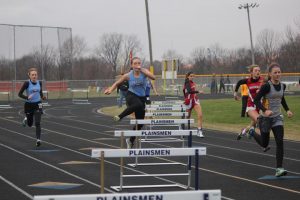 Mariah Vos clears a hurdle in the 400-m hurdles.
The Hawks faced a handful of SICL teams as well as a couple of non-conference teams in the eight-team field. L-S finished in fourth with 76 points behind Sigourney (99), BGM (87), and Montezuma (76.5). Only 6.5 points separated the teams in third through sixth place. That tight of competition is something L-S Coach Darin Arkema expects they'll see more of this season.
In the individual events, the team had five members finish third place or higher. Freshman Kaleah Ehresman earned third in the 100-m dash (14.32 seconds), sophomore Makayla Rozendaal claimed second in the 3,000-m run (12:41), and junior Mariah Vos placed third in the 400-m hurdles (1:13). In field events, freshman Mallory Loftus earned second in the high jump by clearing 4'8", and senior Jelissa Rozendaal threw 30'3.5" in the shot put for third.
"It was good to get out on an outdoor track and compete for the first time this year," J. Rozendaal said. "I'm really excited to see what our team can accomplish later in the season."
L-S had two girls go four-and-five in the 1500-m: Makayla Rozendaal (6:00) and junior Christine Nikkel (6:12). In the longer 3,000-m run, aside from Makayla R. taking second, junior Haley Breeden also placed, coming in sixth in 14:14.
In relay events, the Hawks had three events finish in third. Ehresman, seniors Makenzy Rozendaal and Brenna Lanser, and junior Camryn Russell ran for third in the 4x100 relay with a time of 54.95. Freshman Abby Gruver, Loftus, Makenzy Rozendaal, and Lanser placed third in the 4x200 (2:00), and the 4x800 team (freshman Kennedy Roland, Nikkel, and sophomores Emily Van Gorp and Shaleah Van Wyk) ran a 12:20 for third.
The 4x400 team – consisting of junior Hailey Scandridge, Loftus, Gruver, and Vos – finished fourth in 4:42. The shuttle hurdle team also took fourth, clocking in at 1:15. Team members were Vos, Gruver, Loftus, and Russell.
Juniors Lydia Akërgren and Haley Breeden, sophomore Kaylee Maasdam, and freshman Brittany Hansen earned sixth place in the distance medley with a time of 5:22.
Other events that placed included Gruver in the 400-m hurdles (1:20, fourth), Roland (2:43, fifth) and Van Gorp (2:54, sixth) in the 800-m run, and Russell in the 100-m hurdles (18.12, sixth).
"It was exciting to finally compete in our first outdoor meet of the season," Arkema said. "Some of the girls have been practicing since mid-February, and even though we had the one indoor meet, they've been anticipating this first full competition."
He was pleased with his team for being ready to compete and competing with "great effort."
"Even though the indoor meet was just a week ago, we had a number of improvements by girls from that meet to tonight," Arkema said. "We'll need continued hard work and focus in practice to keep taking steps in the right direction."
The girls' next meet was set for Tuesday, Apr. 4, at home with the boys, followed by a girls-only meet at Eddyville-Blakesburg on Thursday, Apr. 6.