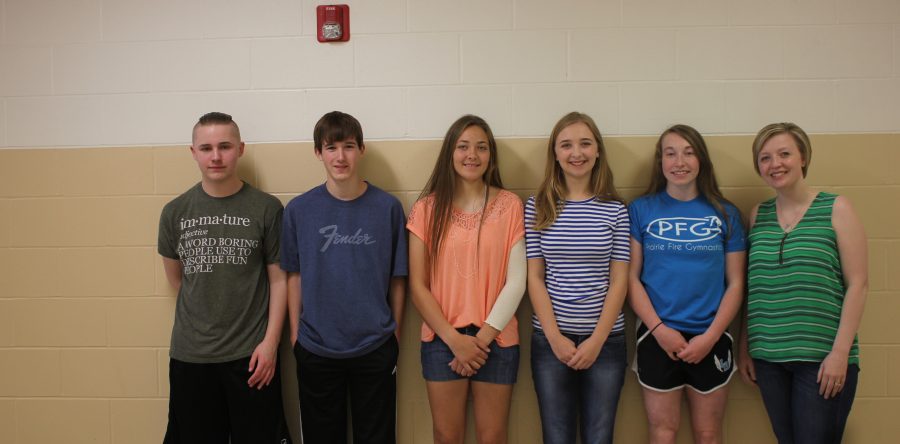 A full school year of study in the Project Lead the Way (PLTW) Principles of Engineering (POE) class for five Lynnville-Sully High Schoolers paid big dividends following the final POE national assessment taken the end of May.
The students – freshmen Maren Egging, Jacob Morningstar, Kennedy Roland, and Brett Stravers, and junior Mariah Vos – scored eight out of nine, a very high score which lands them in the advanced quadrant, meaning they have a comprehensive and complex understanding of the course concepts and the capability to transfer knowledge and skills to novel situations.
The national average score for the POE assessment is a five. The L-S students' score of eight places them scoring as well as or better than 97 percent of students nationally on the 2014 norms. The high scores also make the students eligible to earn a college elective credit through the University of Iowa.
L-S introduced the engaging project-based STEM (science, technology, engineering, math) curriculum at the beginning of the 2016-17 school year. The Principles of Engineering class, taught by Allison Wenck, former high school science teacher, served as a foundation course of the high school engineering pathway. The course exposed students to some of the major concepts they will encounter in a post-secondary engineering course of study including mechanisms, the strength of materials and structures, automation, and kinetics.
"It was fun to watch them learn and grow over the course of the year," said Wenck. "I'm so proud of these kids."
According to L-S Superintendent Shane Ehresman, PLTW is a nonprofit organization that provides a transformative learning experience for K-12 students and teachers across the United States by creating an engaging environment and empowering students to develop in-demand knowledge and skills necessary to thrive in an evolving world. Lynnville-Sully plans to introduce PLTW classes to the middle school curriculum at the beginning of the 2017-18 school year. Wenck, who resigned from
L-S to pursue another teaching opportunity closer to family, will be replaced by Angie Richards, a veteran science teacher who may be trained for future PLTW courses.