Despite the all-out effort from the Lynnville-Sully cross-country runners at the state-qualifying meet last week, no Hawks will be advancing to the state level. Competitors needed to be in the top 15 to make it to state individually, and L-S freshman Abby Gruver was the closest to making it happen, coming up just one placement short at DMACC in Ankeny on Oct. 20.
The L-S boys team placed ninth out of 19, and the girls team placed seventh out of 14.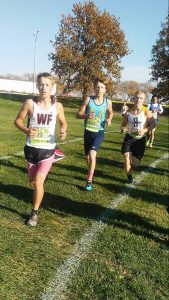 Ty Breeden (middle) proves himself a strong competitor as the Hawks' No. 2 runner at Ankeny.
"We've worked throughout the season to gain the experience and conditioning to be as ready as possible for running the best race we can," said L-S Coach Darin Arkema. "Our team has been getting better each week this season and had no reason to think they couldn't be better today than last week at our conference meet. Both our teams ran great races to put final touches on the season."
Gruver finished in 16th place with a time of 22:07 after, in Arkema's words, "one of the best final quarter-mile finishes to a cross-country race of any athlete I've coached."
Gruver was around 20th place with a quarter-mile to go and switched gears, beginning a hard charge to pick off the competitors spaced out in front of her. She continued speeding up until she was in a full sprint with 100 meters to go. Unfortunately for her, the 15th finisher crossed the line nine seconds in front of her, keeping her from state qualification.
"I have personally felt that disappointment, as well as coached a few other athletes who finished just that one place shy of state," Arkema said. "But Abby has no reason to be disappointed with her performance. She ran to a season-best time and gave it absolutely everything she had. In her first season, she's shown how hard of a worker and competitor she is, and I believe this will fuel her motivation for the future."
Senior Luke Jones competes in his last cross-country meet as an L-S Hawk after being out with an injury.
The L-S girls' second runner was sophomore Emily Van Gorp coming across in 32nd with a time of 23:25. "Emily again was terrific the last two miles of the race, and bettered her season-best time," Arkema said.
Just five spots behind Van Gorp was junior Christine Nikkel. She improved from the conference meet the week before, coming across the finish line with a time of 23:40 and finishing 37th.
The fourth L-S runner was freshman Ashton Thompson, who placed 58th in 24:55. Finishing 65th was Lydia Akergren in 25:05. The sixth and seventh runners were juniors Hailey Scandridge and Haley Breeden placing 72nd and 80th with times of 25:41 and 26:15.
"Of all the girls who raced tonight, Lydia is the only one who couldn't be returning, so this group has plenty to build off from this season and come back next year for an even better season," Arkema said.
Next was the boys race, which started out very fast with a large group getting out super quick. Arkema said he was proud of his guys for staying relaxed and not spending too much energy too quickly.
The top five L-S runners were only separated by a little over a minute. Senior Jared Craver again led the way, finishing in 42nd with a time of 19:01 to conclude his strong senior season. "I would have loved to seen Jared get started with cross-country before this year but glad he was out this season and was one of our top three finishers in nearly every race," Arkema noted.
The second and third Hawk runners were juniors Ty Breeden and Josh Dunsbergen placing 53rd and 56th with times of 19:25 and 19:31. Both "turned on the jets" in the last few hundred meters to pick off some places before the finish line, according to Arkema.
Finishing 67th was sophomore Joseph Anderson with a time of 19:54, followed quickly by junior Cody Gibbs in 69th with a time of 20:03.
"Even though we didn't win, we all tried our hardest and we are proud of our results," said junior Cody Gibbs.
Rounding out the team was senior Luke Jones in 87th in 20:36 and senior Jim Trettin finishing in 111th with a time of 21:57.
"Luke ran well after only having five practices coming off time away for injury. As the only fourth-year senior on our team this year, I knew that even with two weeks off, Luke was going to come into this race and compete," Arkema said. "Jim ran under 22 minutes again tonight and really put in some good workouts the last three weeks of the season to be racing faster."
The Hawks graduate a large group of seniors: Kristine Jaennette, Haley James, Cheyenne Nikkel, Craver, Jones, Jim Trettin, John Trettin, and Derik Allbee. Many were only out for cross-country for one or two seasons of their high school career. "They leave behind a strong nucleus, both girls and boys of possible returners," Arkema said.
"I was excited at the start of this season with the depth and ability I see in this group," he added. "Once they got con-ditioned and able to really begin racing, I saw some of what they can do. Now if they can come into the season farther ahead and in better shape, they will find out just how much better they can be."
With contributions by Quentin Thompson, L-S Newspaper Class