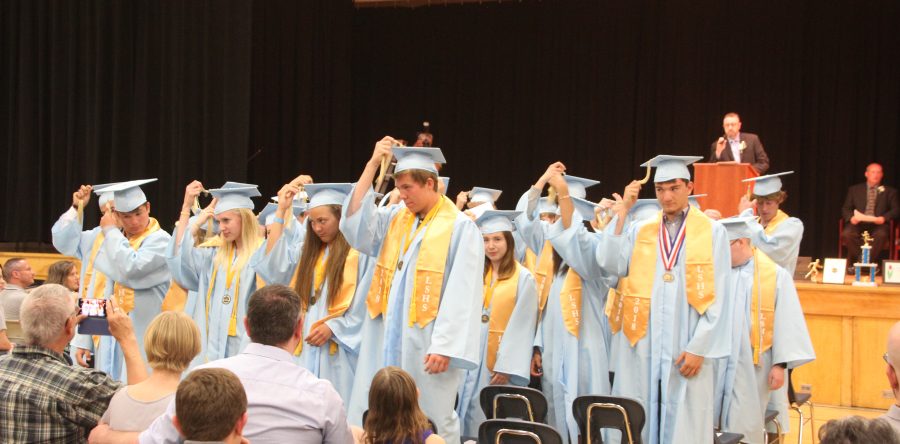 Thirteen years of hard work and accomplishments in and out of the classroom were celebrated for the Lynnville-Sully Class of 2018 during commencement exercises on Saturday evening, May 19.
Family and friends filled the L-S gym for the 35 graduates who walked across the stage to receive their high school diplomas. The much-anticipated event was made more interesting as state track and field participants and their families raced back from Des Moines due to the rain-delayed state meet. Thankfully, all members of the graduating class made it just in time. Commencement began with the processional, superintendent Shane Ehresman welcomed all in attendance, and school board president Tim Dunsbergen announced the Citizens of the Year, Steve and Linda Russell.
Lynnville-Sully Class of 2018: First row, Haley Breeden, Elijah Collins, McKinley Conover, Carson Dunsbergen, Josh Dunsbergen, Drake Ehresman, Makayla Ford; second row, Tanner Foster, Cody Gibbs, Daphne Hackert, Brevin Hansen, Corbin James, Holden Jansen, Cayden Johnson, Madison Johnson; third row: Daniel Keen, Kole Kinion, Corey Kramer, Jacen LeCompte, Nathanael Lirio, Kemper Lukehart, Brett Maasdam, Taylor Maasdam; fourth row, Corey McCoy, Jataya Meyer, Rebecca Morningstar, Camryn Russell, Hailey Scandridge, Mary Kate Shaver, Sierra Suiter, Aaron Van De Krol; fifth row, Jesse Van Wyk, Mariah Vos, Skyler Young, and Sage Zylstra.
High school principal Mr. Shane Wheeler recognized scholastic medallions, and Ehresman announced honor graduates, valedictorian Mariah Vos and salutatorian Camryn Russell, who gave memorable speeches. The high school chorus performed "Oceans and Stars," under the direction of Mrs. Franchesca Richter, K-12 music instructor, and accompanied by Louise Redding. Wheeler then presented the Class of 2018, and Dunsbergen presented the diplomas. With diploma in hand, graduates shared a memorable hug with proud parents before sitting with their class one more time. Once the tassels were flipped to the other side of their caps, graduates tossed their caps into the air and happily marched out of the gym to the recessional played by the L-S band under the direction of Ms. Victoria Hillabolt, band instructor.
Outside, Lynnville-Sully's newest alumni shared hugs, laughs, photos, and even some tears with proud family and friends in the congratulatory line. Congratulations, Class of 2018, and best of luck as you embark on your new journeys!