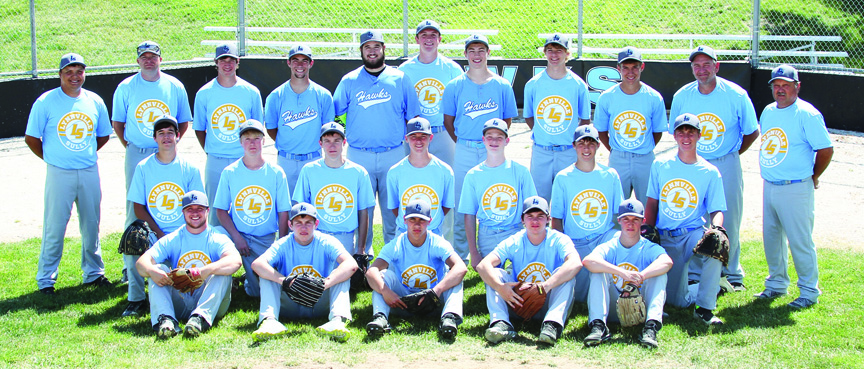 After placing second last year in conference play, the Hawks were left hungry for a conference championship. This year, they helped themselves, winning their first conference championship since 2001. They lost three seniors from 2016, but the team stepped up to fill their shoes and put together an overall record of 16-8.
The L-S boys started their season with a 1-0 loss against 2016 conference champions and 2017 conference runner-up, Colfax-Mingo. But the Hawks bounced back right away, dominating Montezuma, North Mahaska, and BGM. Losses for the Hawks were dabbled throughout the season, slipping in between two four-game win streaks and one seven-game win streak.
One big game for the Hawks was the Keota game in June in which the Hawks were down two runs with two outs and nobody on base in the last inning. They came back to win it 16-13.
"We talk about competing and giving yourself a chance, we found a way to get on base and eventually win the game," recalled L-S Head Coach Bob Scandridge.
Another highlight was beating Colfax-Mingo during their second meeting, 2-0. Last and definitely not least was beating HLV in the Hawks' final regular-season game to clinch the conference championship.
L-S came out of the first round of districts with the win over Melcher-Dallas, with junior Elijah Collins throwing a one-hitter and 13 strikeouts. They advanced to face Moravia, whom they fell to, 10-6, after a tough go at it. "We didn't take advantage of the opportunities that we needed to during this particular game," noted L-S Coach Scandridge
Three seniors were important parts of the team this year. DH and pitcher Isaac Collins had an on-base percentage of .444 and pitched a 3-0 record. Centerfielder Caden Dunsbergen had the Hawks' only home run of the year and stole 16 bases. Infielder and pitcher Tyler Van Zante led the Hawks on the mound, throwing 64 strikeouts, and at bat, he didn't strike out once all year.
"These three seniors who showed passion and leadership are going to be missed. Each one of them brought a love of the game to practice and games," L-S Coach Scandridge said. "We also return a strong nucleus of starters and letter winners who look to advance the program further."