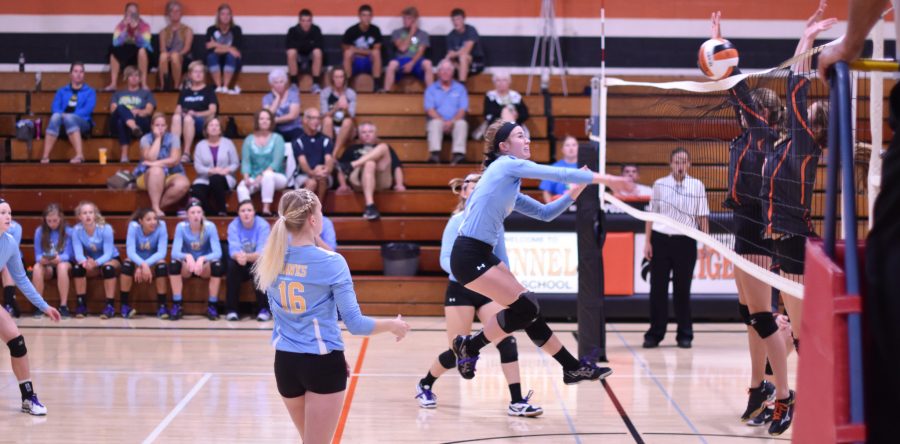 The Lynnville-Sully volleyball team kicked off their competitive season with a tournament at Grinnell last Saturday, Aug. 26. They went 1-4 for the day against 1A, 2A, and even 4A competition.
"We definitely learned that we need to communicate better, and we can't get caught standing while the ball is in play," said L-S Coach Jayme Deal. "We are going to be working on block and hitting coverage along with reading the tip."
Senior McKinley Conover tips the ball over the net against a pair of defenders from Grinnell.
The L-S girls started their day out against 4A Grinnell, losing the first set 21-11, winning the second 21-18, and falling in the third 15-5.
Senior Skyler Young came up big against Grinnell, successfully serving 11 out of her 12 serves. Junior Makayla Rozendaal had five digs along with eight completed serves, one of those being an ace.
In the second match of the day, the Hawks went three sets against 4A Norwalk. They were unable to get the win in the first set, 21-10, but powered through the second set, winning 21-16. They lost the deciding set 15-12, giving them the second loss for the day.
The Hawks totaled 21 kills versus Norwalk, seven of the coming from junior Carson Fisk. Senior McKinley Conover and sophomore Mallory Loftus weren't far behind with six each. Fisk served a solid four aces.
L-S's next game was against a conference opponent, the Iowa Valley Tigers. The Hawks only lasted two sets, losing the first one 21-10 and the second one 21-7. They completed 18 out of 26 serves and only had seven kills on the game.
Next up, they faced Des Moines Christian and were unable to make it to the third set. DMC beat them 21-11 in the first set and 21-5 in the second.
In the final match of the day, the Hawks pulled out a win against 4A Washington, taking the 21-19 win in both the first and second sets.
The Hawks completed 40 of 46 serves, with senior Camryn Russell making all eight of her serves. The team totaled 19 kills, and Young set up 19 assists. Conover, Loftus, and junior Shiloh Cunningham all had five kills.
The Hawks were set to host Baxter on Tuesday, Aug. 29, and East Marshall on Thursday, Aug. 31. They will be on the road at HLV on Tuesday, Sept. 5 (note the date change from Sept. 21).